Currency.com Beginner's Guide & Review To The Tokenized Securities Exchange
One of the main challenges that cryptocurrency holders tend to face is a lack of access to regulated financial markets. This is, of course, if they do not swap their crypto for fiat. As a result, crypto investors can't trade in the liquid markets of commodities, indices, and equities. That's where Currency.com comes into the […]
The post Currency.com Beginner's Guide & Review To The Tokenized Securities Exchange appeared first on CryptoPotato.
One of the main challenges that cryptocurrency holders tend to face is a lack of access to regulated financial markets. This is, of course, if they do not swap their crypto for fiat. As a result, crypto investors can't trade in the liquid markets of commodities, indices, and equities. That's where Currency.com comes into the picture.
Currency.com
Pros
A substantial variety of different assets to trade with (tokenized shares)
Well-made and intuitive trading platform with splendid UX
Regulated exchange
Fully functional mobile app available on iOS and Android
Cons
There's still room to add more traditional assets to the platform
More cryptocurrencies could be added for additional deposit and withdrawal options
What is Currency.com?
Currency.com is a platform which enables anyone who holds Bitcoin, Ethereum, or Litecoin, for example, to trade financial assets, indices, and commodities from the world's largest companies. Moreover, they can do so without having to convert their cryptocurrency to fiat.
The platform describes itself as 'the world's first regulated tokenized securities trading platform,' allowing users to gain exposure to the underlying market prices of traditional assets by using cryptocurrencies or fiat currencies as collateral. Users are able to trade in crypto and receive their profits in crypto.
Another interesting thing to note is that Currency.com provides cryptocurrency margin trading. So far, there are three major cryptos that can be leveraged, namely Bitcoin, Ethereum, and Litecoin. With leverage of up to 20x, the platform aims to establish itself as one of the dominant players in the field.
The web-based platform is one of the options you can use, but there are also iOS and Android apps which provide the same fluid functionalities.
What Are Tokenized Securities?
Tokenized securities are merely tokens which represent the price of underlying assets such as commodities, securities, or bonds. When it comes to the economic outcome for the investor, be it a profit or a loss, tokenized securities are pretty much analogous to bonds, commodities, equities, derivatives, futures, and other well-known financial instruments.
The platform is poised to issue over 10,000 tokens which are pegged to the market prices of various asset classes. They will include companies such as Coca-Cola, Amazon, and Apple; indices such as the Dow Jones 30, Nasdaq 100, and the S&P 500; as well as commodities such as Brent Crude oil, gold, and silver.
When the user places a trade, he or she will receive a token which tracks the price of the selected instrument. This allows investors to diversify their portfolios without having to convert their crypto to fiat.
The original liquidity prices are provided by Capital.com, the partner company of Currency.com. The prices are transparent and accessible via blockchain-based technology in order to guarantee the best possible prices.
Available Markets
As mentioned above, Currency.com offers a broad range of financial instruments that traders can take advantage of in order to leverage their crypto holdings on traditional markets.
Stock indices (AKA indexes) represent a fundamental part of the traditional financial markets. Some of the most popular ones include the FTSE 100, Dow Jones, NASDAQ, and the S&P 500. In short, a stock index measures the price performance of a group of shares from a particular exchange.
At the time of this writing, Currency.com offers the following indices: DE30, US500, US100, IT40, CN50, NL25, EU50, FR40, US30, SP35.
Tokenized Shares
The stock market is perhaps one of the most interesting markets to monitor and engage with. Traders use it to speculate on the stock prices of the world's largest companies.
Currency.com offers tokenized shares of companies such as Fiverr, Uber, Slack Technologies, NVIDIA, AT&T, Visa, Netflix, Tesla, Apple, and countless others.
Tokenized Commodities
Currency.com enables traders to use their cryptocurrency to engage with some of the world's largest markets. One can speculate on the price of silver, gold, natural gas, crude oil, palladium, platinum, and so forth.
Tokenized Government Bonds
Government bonds are well-known debt instruments which are issued by a country's government in order to finance short-term and long-term government spending. At the time of this writing, Currency.com only allows trading with Belarusian government bonds.
How to Register
Currency.com has a fairly straightforward yet thorough registration process. As soon as you land on the homepage, click on the "Exchange" button on the top navigation menu.
A detailed KYC procedure is required because the platform is regulated by the High Tech Park of Belarus and audited by Ernst & Young. It complies with KYC and AML regulations in order to protect clients from buying 'dirty' cryptocurrencies.
Once you click "Exchange", the following screen will pop up, and that's Step 1. 
Obviously, you'll have to enter your preferred email address and then set up a password which adheres to the requirements. Once you get that done, you will be able to click on the button to continue with the registration.
Step 2. Enter your country of residence and your nationality.
Step 3. Enter your current address.
Step 4. Provide your name as it appears on your passport.
Step 5. Next is a quick email verification. Be sure to click on the link sent to the email provided.
Step 6. ID Verification. Provide a picture of your official, government-issued ID.
Step 7. Address Verification. You must provide some sort of a document which contains your address as provided in Step 3.
Withdrawals and Deposits
In order to deposit funds into your account, go to the "Wallets" section found on the top navigation menu. The following screen will pop up.
For the sake of this guide, we've deposited $100 and you can see how it is reflected in the wallet balance. You can also see the other options that you have if you want to deposit another fiat currency or cryptocurrency.
The withdrawal process is also fairly simple. Obviously, in the case of fiat currencies, you'll have to do a bank transfer. However, if you've used a bank card as a deposit method, you can also use it to withdraw.  As soon as you hit the "withdraw" button, you'll be asked to specify the currency that you want to withdraw. Next, click on "Go To Bank Transfer."
Here's the screen you will get:
Once you are done with this, all you have to do is wait for the money to hit your bank account.
How to Trade
Trading the tokenized securities on Currency.com is pretty much the same as trading any other cryptocurrency or traditional asset on any digital exchange. Users are able to choose whether to buy or to sell. The risks associated with profits and losses are the same as with any other form of trading. Now, let's take a closer look at the trading process and how to go through it with ease.
How to Buy
Currency.com is a unique trading platform which allows one to trade indices, commodities, stocks, and other traditional financial assets. Let's have a look at how to buy into the S&P 500 – one of the most prominent indexes in the world.
On the left side of your trading screen you will see a few options, including Trade, Charts, Portfolio, Reports, and Referrals. Click on Trade. Here's what you will see:
Choose S&P 500 and click the Buy button. This window will pop up:
As you can see, the platform allows you to allocate a precise percentage of your current cash or crypto position to make the buying process easier.
The tab that opens by default is a market order, so you will be buying at current market prices. If you want to place a limit order in order to set an entry point at a precise price, you will have to click on the "Buy When Price Is" button. You will get an expanded screen which looks like this: 
As soon as you are ready to place the desired order, you'll have to click on Buy or Place Order, depending on whether it's a market buy or a limit order.
Once you've done that, you can go back to your wallet. At the bottom, you will see that you have an open position and that you own a small part of the S&P 500.
How to Sell
Once you've bought an asset, you will notice that the trading dashboard reflects it by allowing you to sell it. Here is what it will look like:
If you want to sell, click the Sell button and you will see the following screen on the side: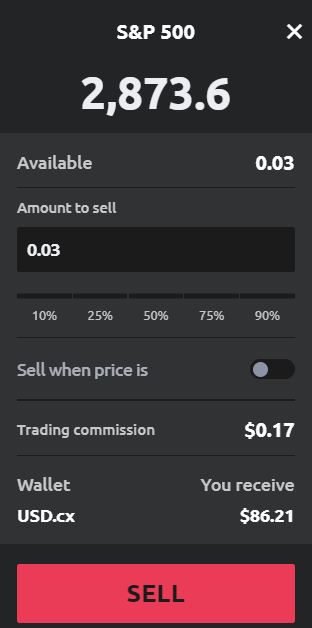 Once again, you can set a limit order to sell at a certain price point. When you are done with the inputs, click on either Sell or Place Order.
That's pretty much all there is to it. There's nothing challenging when it comes to trading on Currency.com, and that's perhaps one of its best features.
Currency.com Margin Trading
Currency.com offers margin trading capabilities. Users can trade cryptocurrencies as well as traditional financial instruments with leverage of up to 100x on certain pairs.
The cryptocurrencies that you can trade with leverage are Bitcoin, Ethereum and Litecoin. You can trade them against the euro, US dollar, Belarusian ruble (BYN) and Russian ruble (RUB). You can also trade them against each other. For instance, there are LTC/BTC and ETH/BTC trading pairs.
Let's take a closer look at how to trade Bitcoin for US dollars, as that's one of the most common trading pairs.
After you open the trading platform, select "Leverage" on the top left corner, and then select "Cryptos" from the markets menu. Once you do this, you will see the following screen with all of your available trading pairs:
From here, you can select whether you wish to short or long Bitcoin against the US dollar, depending on where you think the price will go. If you think it's going down, you would naturally want to short, so you'd click Sell. If you think that BTC will appreciate, you would want to long, and you'd click the Buy button. 
Let's say you want to long Bitcoin, and you click on Buy. Here's what you are going to see:
The first thing you'll have to do is enter the amount of BTC you want to buy. As we previously explained, the default setting is a market order, so if you want to place a limit order, you'll have to click on "Buy when price is" and input the desired value.
Then, select your leverage. For this trading pair, the maximum leverage is 20x. This means that your position will be 20 times greater than the amount you've invested in the trade. While this allows for higher profits, it also significantly increases your risk of liquidation.
Currency.com also allows you to set Stop Loss and Take Profit commands. Here's what the Stop Loss command looks like:
It's pretty self-explanatory, and all you have to do is make sure to input the correct value for the losses that you are willing to incur, either in absolute or percentage terms.
For example, you can set a stop loss order to be triggered if you lose $500, or if Bitcoin loses 5% of its value. "Distance" means that if Bitcoin loses, say, $1,000, your Stop Loss order will be triggered.
"Take Profit" means that you specify the profits you want to take in order to automatically exit your position while in the positive.
Fees and Charges
Obviously, one of the more important things to consider when it comes to trading on any platform is the fees and charges you will incur for depositing, withdrawing, and trading.
Deposits
When depositing fiat currency, you will incur a 3.5% deposit commission if you use your Visa or Mastercard. Bank transfers are free of charge. There's also a minimum deposit requirement of $100 if you use Visa or MasterCard and $50 if you make a bank transfer. The maximum you can deposit is $24,000 or its equivalent in crypto. However, you may undergo an extended verification process which will allow you to deposit more money.
If you deposit cryptocurrency, you won't be charged at all.
Withdrawals
Withdrawal commissions apply when you take money out of the platform. The following rates apply as of the time of this writing:
Visa: 2.4% + $3
Mastercard: 1.9% + $3
Bank Transfer (Belarus residents): $8
Bank Transfer (Non-Belarus residents): 0.15% (min $20, max $150)
If you're withdrawing cryptocurrency, the commissions are as follows:
BTC: 0.0005 BTC
ETH: 0.02 ETH
LTC: 0.04 LTC
Trading Fees
As with most trading platforms, Currency.com imposes fees for traders. They are detailed fairly well.
Conclusion
Currency.com is a well-made trading platform which enables cryptocurrency users to gain exposure to the price movements of major cryptocurrencies and various traditional assets. This allows them to engage in those markets without having to convert their cryptocurrency, and it also allows them to receive their profits directly in crypto. For risk lovers, it offers margin trading opportunities.
The post Currency.com Beginner's Guide & Review To The Tokenized Securities Exchange appeared first on CryptoPotato.